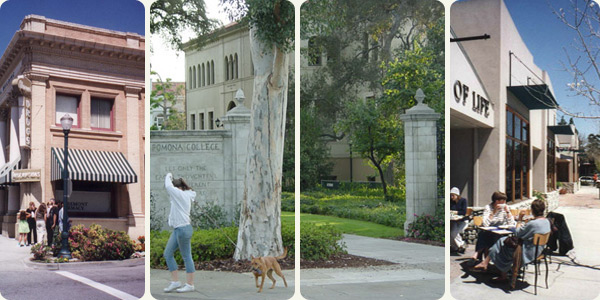 Claremont: a Special Place.
» Additional Dining & Shopping
» Chamber of Commerce Calendar
» College Event Calendar
The jewel of Southern California's Inland Empire, Claremont is a New England style university town with pedestrian friendly streets, an east coast ambiance and a rich history rooted in California's citrus industry. Claremont Village, the City's historic shopping district, is the quintessential American downtown, with small tree lined streets, upscale boutiques, restaurants, cafes, and a Laemmle movie cinema. The Village's new public plaza, or Town Square, is an outdoor living room, landscaped with fountains and other amenities ideal for the relaxation of visitors.
The prestigious Claremont Colleges, located in Claremont Village, are a highly regarded cluster of seven independent colleges, serving approximately 6,500 students with 3,300 faculty and staff: Pomona College, founded in 1887; Claremont Graduate University, 1925; Scripps College, 1926: Claremont McKenna College, 1946; Harvey Mudd College, 1955; Pitzer College, 1963; and the Keck Graduate Institute for Applied Life Sciences, 1997.
A new 470 car public parking structure directly across the street from Hotel Casa 425 provides convenient parking to visitors and guests of the Claremont Village and Colleges.